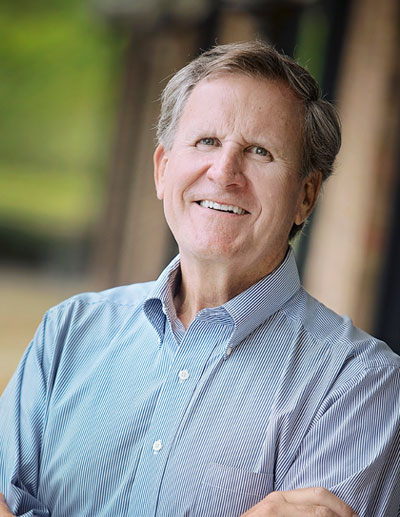 Pete Jones
President
Pete's broad background in multi-million dollar company expansions, leading-edge technology,  and complex machinery systems offers exceptional know-how. More essential however, is Pete's daily commitment to the company's core values that define the spirit of Guardian Integrators.    Honesty, sincerity and service are principals for his life and business – and led the collaborative effort toward a fresh name and identity from Global Security International to Guardian Integrators:  seamlessly guarding assets, people and property while serving the customer with the utmost integrity and respect.
This multi-generational Baldwin County native has traveled the world negotiating business deals, projects and contracts. No matter the miles or time zone, Pete found "what I value most from those experiences is understanding the importance of relationships. Nothing determines the measurable success of both parties more." Pete's operational background with industry-leading shipbuilding and production manufacturing developed a keen appreciation for attention to detail, a growth mindset to improve systems, and collaboration in making the complex seamless.
With a strong focus on his family and native roots, Pete invested in GSI in 2010. Now as sole owner, Pete has revitalized directives and objectives for company growth, added talented new leadership in security and building technologies, and made expanded services and credentials a priority.
Guardian matches its service commitment to clients – with service to community. Pete exemplifies the "servant's heart." You'll find him supporting and serving in various roles with the Mobile Rescue Mission, Practice Ministries, Young Life, Fairhope United Methodist Church and more. The University of South Alabama Health Systems "H. Peterson Jones Neuroscience Endowment Fund" was launched after Pete's battle with a rare neurological disorder. Pete and wife Ashley lead this campaign in support of ground-breaking research at the same hospital that saved his life.
Pete is a 1982 graduate of Auburn University with a Bachelor of Science in Mechanical Engineering. You'll often find him on the longtime family farm in Bay Minette or the waters of Perdido Bay… but always with the family that fills his heart and free time:  wife Ashley and three children.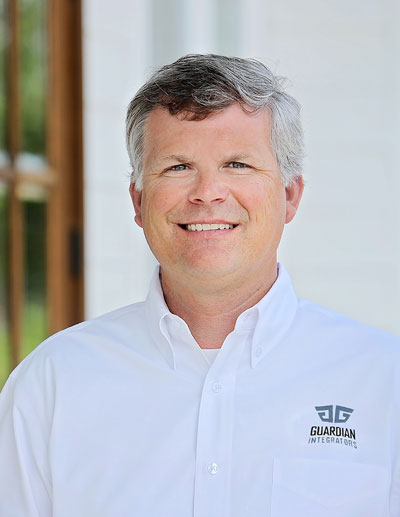 David Barrett
Director of Integrated Sales
David is a Mobile native who understands not just the community but the tremendous business potential of the Central Gulf Coast. After a nearly ten year career in sales for a large regional service industry,  David realized another service was becoming an even more pressing need for his corporate, school and hospital clients: security. He joined Guardian in 2017, and today leads business development for our growing number of client partners from Mississippi to Northwest Florida.
David played a major role in developing the corporate core values defining who we are and how we do it. His priority – gaining and keeping trust  as we provide a secure and reliable infrastructure that allows employees, students, visitors and others to operate safely. David defines integrity as doing the right thing for the customer regardless of the situation or potential profits. That honest relationship, followed by quality work and performance, ensures a commitment to client partners for the long haul.
David is a graduate of The University of South Alabama with a BA in Psychology. From 2001-2008 he led the Raycom Sports Bruno's Event Team for Mobile's LPGA Tournament of Champions –  managing multi-million dollar sponsorships, media promotions, hundreds of volunteers, employees and logistics for the showcase women's golf event.
David and his family live in Daphne, where he coaches his children's CYO basketball and football teams. Hunting, fishing and golf fill his other free time.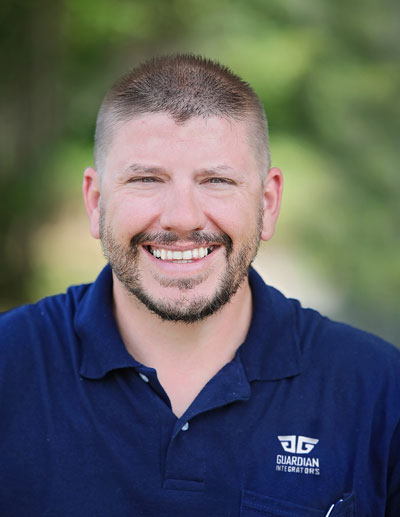 Randall Christiansen
Field Operations
Randall's experience in the United State Air Force defines not just his expertise in technology but the code of ethics he brings to Guardian Integrators. Randall worked on fighter aircraft ejection systems  before gaining a degree from  American Military University in Information Technology Management.
With an innate high-tech talent and a love of working with his hands, Randall joined Guardian Integrators in 2017. He describes Guardian's integrity-first commitment as a natural draw similar to the standards he valued in the military. "In the security business, it's of the utmost importance that our customers trust our company and our people. We're working in their facility to keep their employees and business secure – I consider that an honor."
Randall calls Walnut Hill, Florida home – and is a father of three.